Sri Sukta Sadhana Immersion
Stage 2
with Pandit Rajmani Tigunait, PhD
February 8—22, 2024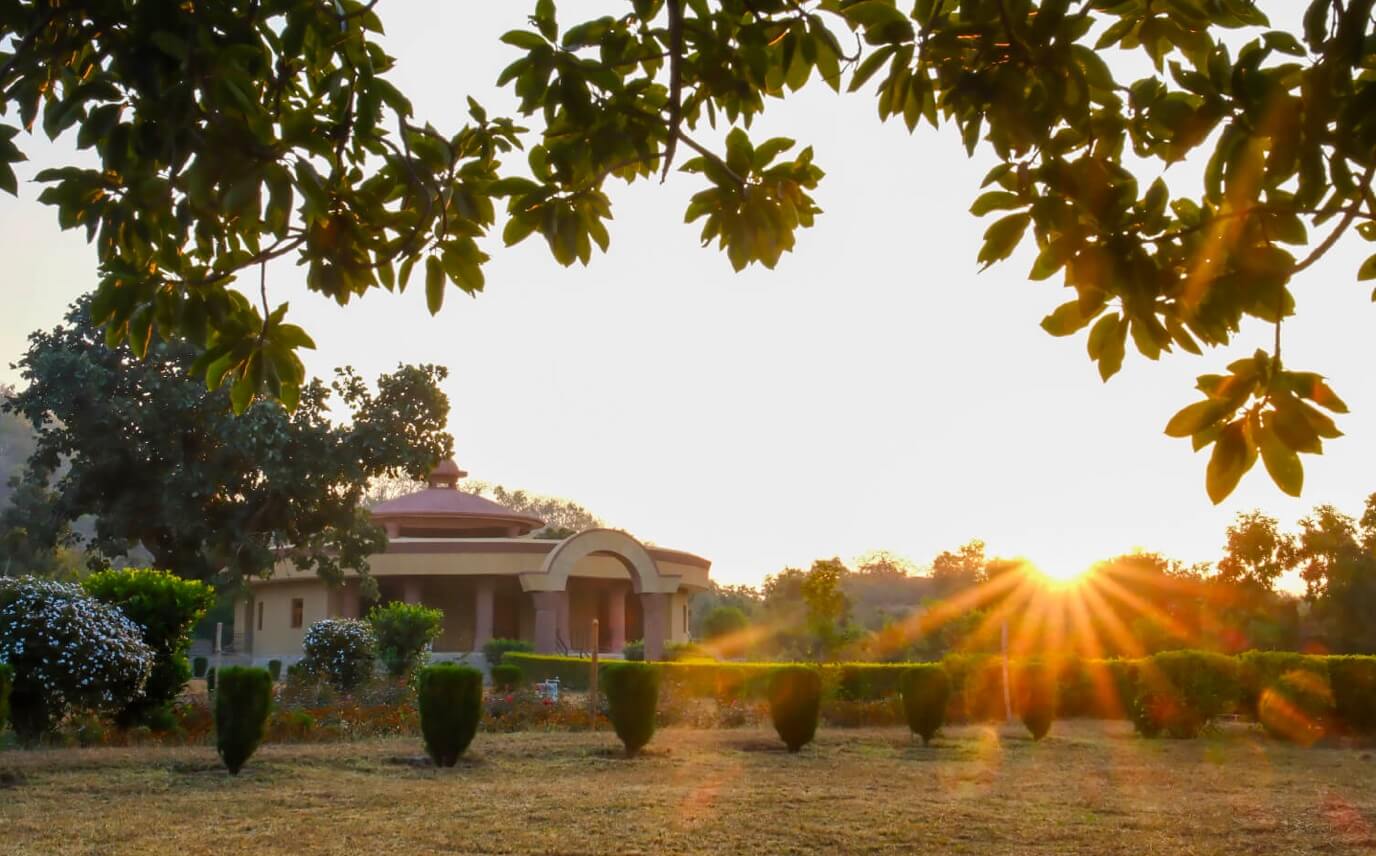 Idyllic Setting for Practice
The Institute's 30-acre campus in Khajuraho, a stronghold of tantric practices and UNESCO World Heritage Site, is the ideal setting for practice. Surrounded by hills and forest preserves, it is blessed with natural beauty and tranquility. Here you will experience heaven on earth. The Sri Vidya Shrine awaits you in this idyllic setting.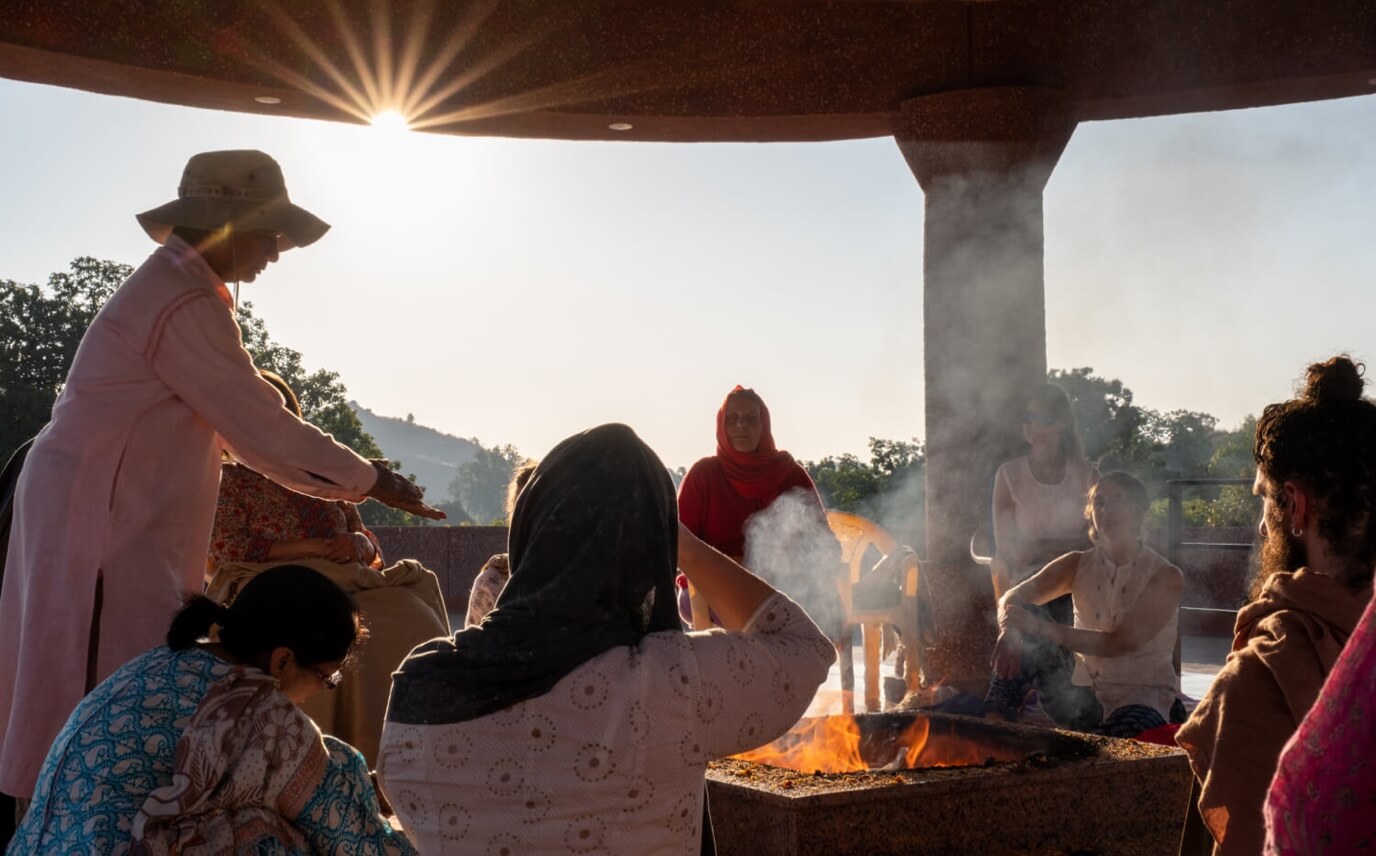 Daily Recitation with Guidance
Daily recitation of Sri Sukta under the guidance of Pandit Rajmani Tigunait, and as part of a group of committed, like-minded sadhakas who have all undertaken the prerequisites. The practice will begin and conclude with a special havan, led by Panditji, and the dates for this 12-day practice are intentionally selected to coincide with an auspicious window of time, beginning on the new moon.
Supportive Group Practices
Enhance your Sri Sukta recitation with personalized meditation sessions in the Sri Vidya Shrine. Engage in an insightful 8-part lecture series led by Pandit Rajmani Tigunait, covering various topics (to be announced). Benefit from guided practices conducted by Himalayan Institute Faculty, meticulously crafted to deepen your pranic awareness and complement your participation in the Sri Sukta recitation intensive. Immerse yourself in the daily group recitation of the Sri Sukta to enhance your practice further.
All participants should arrive in Khajuraho by February 8th; if you arrive on February 8th, transfer from the airport is included in your registration fee. If you arrive/depart outside of the group airport arrival, there will be an airport pickup fee. Participants may conclude their program and depart campus on February 22nd. Personal retreat extensions may be available through February 27th, by reservation.
The nucleus of this practice is the recitation of Sri Sukta 800 times in 11 days (beginning on February 9th 2022), concluding with a special havan of 80 recitations on the 12th day (February 21st 2022)
Your daily practice of Sri Sukta will be 72 or 73 recitations, broken into 2 or 3 sessions per day. You will do most of your recitation individually in your room, supplemented by a daily group recitation
Silence hours will be maintained during key practice times, and from 9pm to 8am
To maintain the focus and integrity of the practice, participants are asked to minimize outside distractions, including remote work responsibilities and leaving campus for the duration of the program
There will be limited internet WiFi hours to maintain inward awareness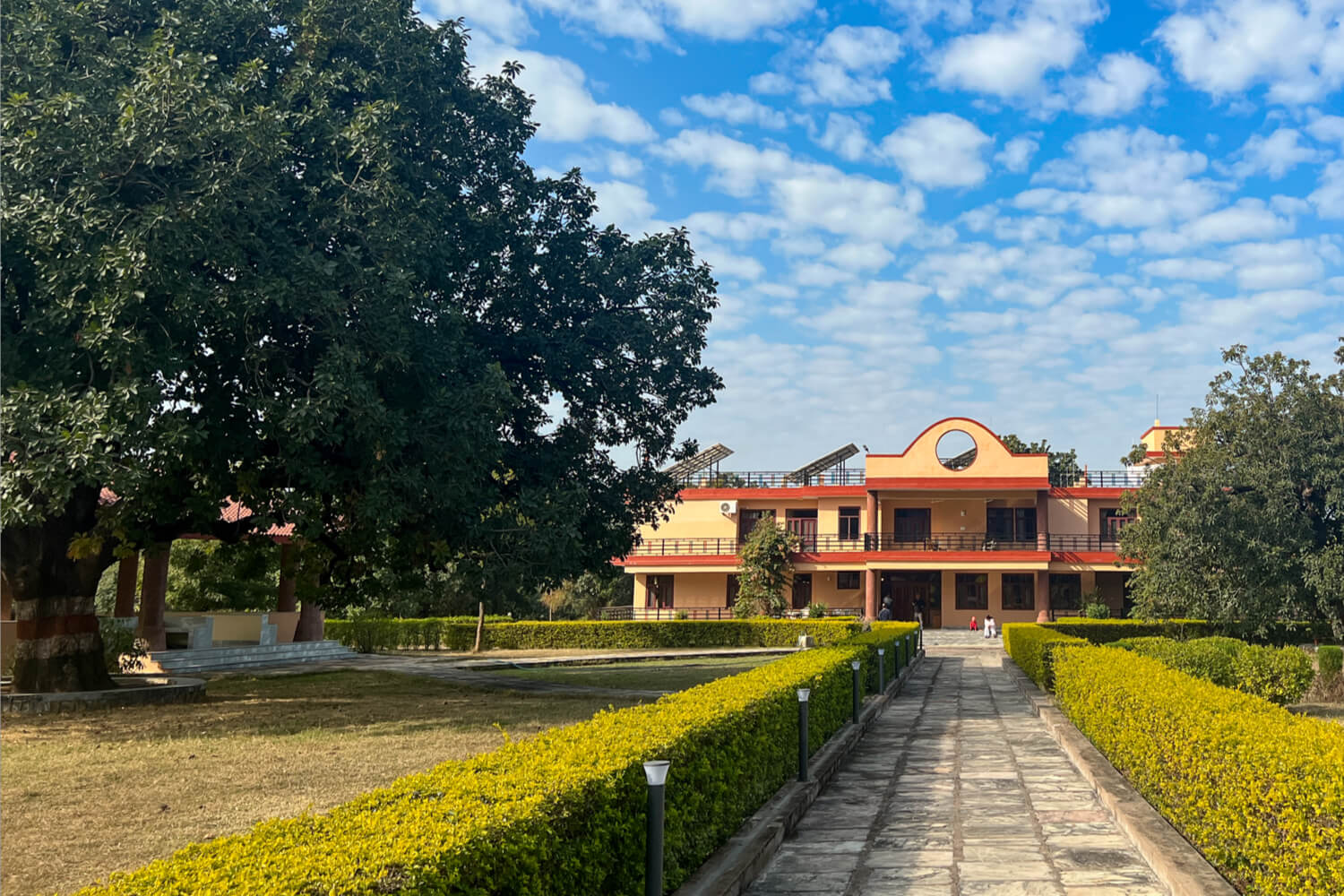 Accommodations
Due to the unique nature of this program, and the fact that you will be doing most of your recitations in your room, we are recommending practitioners stay in a private room. Only a limited number of shared rooms are available for couples or practitioners who mutually select each other as a roommate.
Pandit Rajmani Tigunait, PhD
Pandit Rajmani Tigunait, PhD, is a modern-day master and living link in the unbroken Himalayan Tradition. He is the successor to Sri Swami Rama of the Himalayas, and the spiritual head of the Himalayan Institute. As the author of numerous books, including his autobiography Touched by Fire: The Ongoing Journey of a Spiritual Seeker, Pandit Tigunait offers practical guidance on applying yogic and tantric wisdom to modern life. For over 40 years he has touched innumerable lives around the world as a teacher, humanitarian, and visionary spiritual leader. You can view more of his teachings online in the library of Himalayan Institute Online.
Pandit Tigunait holds two doctorates: one in Sanskrit from the University of Allahabad in India, and another in Oriental Studies from the University of Pennsylvania. Family tradition gave Pandit Tigunait access to a vast range of spiritual wisdom preserved in both the written and oral traditions. Before meeting his master, Pandit Tigunait studied Sanskrit, the language of the ancient scriptures of India, as well as the languages of the Buddhist, Jaina, and Zorastrian traditions. In 1976, Swami Rama ordained Pandit Tigunait into the 5,000-year-old lineage of the Himalayan Masters.
Our team of dedicated leaders for our Himalayan Institute Excursions brings a wealth of knowledge, experience, and passion to the Himalayan Institute's mission. Our team is deeply committed to sharing the wisdom of yogic and tantric traditions as a catalyst for transformation. Together, they lead transformative journeys into the heart of the Himalayas.
| Date | Price | Notes |
| --- | --- | --- |
| February 8–22, 2024 | $2,299—$3,299 | Price varies based on accommodation. |
Frequently Asked Questions