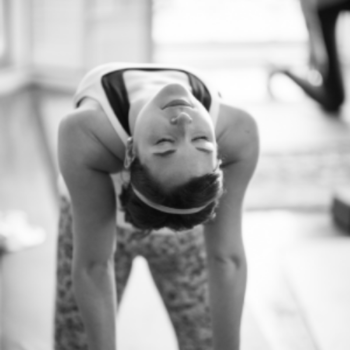 Leanne Matullo
A dancer of over 22 years, Leanne found yoga after years of trying to cope with anxiety, stress, and generally feeling lost as a human. Yoga was a last resort to deal, and being barefoot sounded good, too. All of a sudden, her yoga mat became not just a place to get stronger physically, but to harness the power of the mind, to tap into wisdom & freedom she didn't know she had.
Leanne's classes share so much more than a physical routine for the body. She offers tools and yoga philosophy to help you live better, engage your strengths, understand your areas of growth, and be better at work, at home, and with every other engagement you have. She encourages her students to find peace in their minds, and acceptance with their bodies. She wants yoga to help you slow down and focus in a fast moving world. She knows that yoga can open you to your own potential. Leanne's teachings emphasize a fusion of breath, creative movement, laughter, and celebrating the joy in the little moments.
Leanne has taught in a variety of locations from inner city schools, community centers, private residences, studios, and public venues.  Leanne teaches via privates sessions and group vinyasa, slow flow, power, restorative classes. RYT-200. YoKid Certified. MA Human Development.