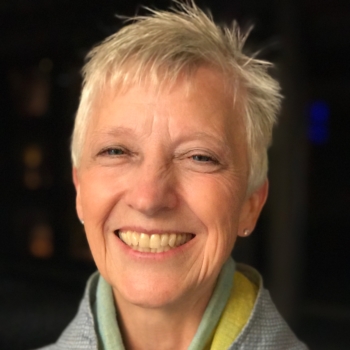 Melissa Collins
Pain and fear brought Melissa to yoga. Joy keeps her there. 30 years ago, a doctor told Melissa she may have MS. Stunned by that diagnosis she thought, "What do I do now?" Yoga was the answer. Melissa started practicing the next day and has not stopped. Practice gave her a sense of control as well as a profound sense of joy and she wanted to find out why. She enrolled in the Himalayan Institute graduate program and started on a path of learning about the physical and psychological effects of yoga that continues today. (Note: The doctor was wrong. She did not have MS).
Melissa is a Himalayan Institute certified yoga instructor as well as an Ayurvedic Yoga Specialist. She has also studied Ashtanga Vinyasa with Beryl Bender Birch and holds beginning Svaroopa Yoga certification with Rama Birch. Melissa is on faculty in the Health and Wellness Department of Binghamton University. She also teaches yoga and meditation classes for group and private clients in addition to workshops for businesses, schools and other organizations.
A trained singer and harpist, Melissa is also a certified therapeutic musician through the International Harp Therapy Program. She uses harp and voice for healing and restoration in nursing homes, hospitals, and private settings as well as chanting sessions. Melissa is also the creator of the Music Vigil, a palliative care program for the dying.