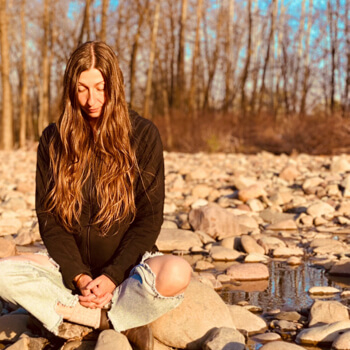 Nikol Kallinteris
Nikoleta Kallinteris is the Founder & Director of Yoga House Stroudsburg Inc., 2011.
She began her yogic journey in 2006 through the practice of Ashtanga Yoga.
A longtime yoga practitioner and guide, her teachings incorporate the ancient practices of Yoga, Breathwork, Meditation, and Sound Therapy. Through the art of unifying movement with stillness, she aspires to bring harmony to the physical and spiritual elements of life. A seeker at heart, Nikol is a loving friend of the earth and all who dwell therein. She leads a vegan lifestyle and follows the Tao of universal harmony. In 2018 she was initiated in receiving the Tao through a ceremony by Holy Master Hsu.
Nikol has studied with some of our great teachers; Manju Jois, Paulie Zink, Doug Swensen, Tao Porchon, Jason Ray Brown, Sean Corne, Kino MacGregor, Jason Crandell & Paul B. Roache, MD., Jennifer Allen, Chris Loebsack, Swamini Ramananda, and Glenda Dawson,
Currently, Nikol is immersed in the independent study of Yogic Philosophy, Meditation, and Sound Therapy Techniques.
Credentials: 500 E-RYT Certification in Hatha Yoga, Restorative Yoga, Anatomy Studies for Yoga Teacher/ASFYT 1-3, and Essential Yoga Anatomy/Glo. Third Degree Usui Reiki Attuned.
Additional Studies: BA Communications/Psychology. AA Fashion Design. Certified Graphic Designer. Certified Beauty & Special Effects Cosmetic Artist.
"If you are a pattern for the world there will be nothing you can't do"
—Lao Tsu.