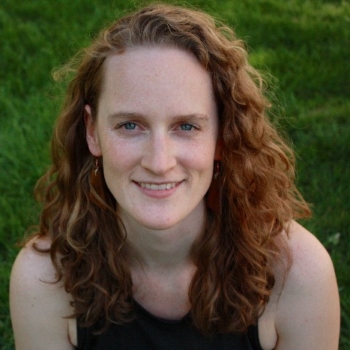 Sarah Mayhew
Sarah completed her 200-hour Yoga Teacher training at Gogo Guru in Ellicott City, MD, and her Prenatal Yoga Teacher training at Charm City Yoga/YogaWorks in Baltimore. Sarah conveys an energetic, light-hearted, yet grounded approach to yoga, infusing her classes with opportunities for her students to find their edge and find their center. She brings her improvisational theater, music, and dance background to the table to help her students realize and embrace their grace, face challenges with a sense of adventure and humor, and focus their active, creative minds.
She encourages her students to make time in their day for themselves, for introspection, and for cultivating their practice on and off of their mats. Ever the yoga student herself, she has taken coursework in Yoga for the Classroom and training in Thai Yoga Massage and Bodywork. In addition, she is working on her Yoga for All certification, which focuses on teaching yoga so that is it approachable and adaptable for all experience levels and diverse body types.
Beyond the yoga studio, Sarah is a middle-school ESOL teacher. She brings her knowledge of pranayama, meditation, and asana practice into her classroom. She has experience teaching therapeutic crisis coping methods, restorative circles, social skills, and character-building classes in private, alternative, and public schools. Educating the whole person is extremely important to her, and translates into her yoga classes as well.