Meditation and Self-Awareness in Family Life
Luke Ketterhagen
April 25, 2019
Why does meditation help so much with regulating our emotions—whether we're young or old? In this short video, Luke Ketterhagen describes how his teenage daughter used meditation to calm her anger and step back from it, rather than just reacting. He shares three practical steps for applying this kind of self-study (svadhyaya) in your own life. Discover how you and your loved ones can use this yogic observance (niyama) to learn more about yourselves—together.
Format: Video with audio download
Length: 6 mins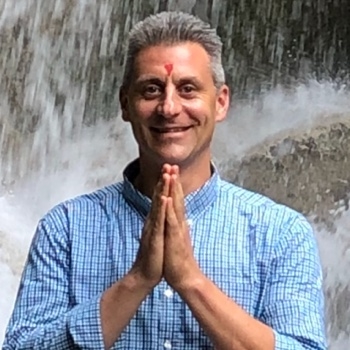 Luke's entire adult life, he has been dedicated to helping others and living a healthy lifestyle. After graduating magna cum laude from Marquette University with a degree in biomedical sciences, Luke immersed himself in the studies and practices of the Himalayan Tradition through residential programs at the Himalayan Institute. His stay of over seven years in residence and study under his teacher Panditji has fueled Luke's passion to share this timeless knowledge and practices the world may need now more than ever. He has opened yoga studios and launched programs at centers and retreats in the US from Venice, CA to the Hudson Valley and from Dallas, TX to Fond du Lac, WI and taught Internationally in Brussels, London, the Grand Cayman Islands, the Dominican Republic and in India during the tours he led throughout the vast subcontinent from 2015-2019. He can't wait to go back to India in 2023!!! Luke and his family live in Kalamazoo, MI where he teaches mostly virtually specializing in hatha, meditation, and the yogic lifestyle. In addition to teaching retreats at the Himalayan Institute, most recently Luke directed the production of his family's organic blueberry farm helping the local community and beyond enjoy the "little drops of blue medicine".