Thriving in the Age of Kali Yuga
Pandit Rajmani Tigunait, PhD
October 18, 2020
We are deeply steeped in the Kali Yuga, the dark age—it demands no proof. So much fear, anger, confusion, divisiveness, mistrust, lying, bullying—in one word, madness! Is this why we were born? Is this what we take with us? What a waste of the priceless gift that is this human life.
Something has definitely gone wrong, both inside and outside us. The suffering caused by this "wrong" must be stopped. But how? Running away from the reality at hand is not a solution. The solution lies in the time-tested wisdom of Buddha and Patanjali, and with this livestream, Pandit Rajmani Tigunait will share with us how to put that wisdom into practice.
Further Reading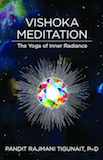 Vishoka Meditation
This concise work makes meditation as practiced by the ancient yoga masters accessible to a modern audience, offering step-by-step instructions to guide us to an illumined state of consciousness. Learn a precise set of meditative techniques designed to unite mind and breath and turn them inward, allowing us to heal and rejuvenate ourselves on every level of our being. Realize the possibility of a life free from pain, sorrow, and negativity and infused with joy and tranquility.
Pandit Rajmani Tigunait, PhD, is a modern-day master and living link in the unbroken Himalayan Tradition. He is the successor to Sri Swami Rama of the Himalayas, and the spiritual head of the Himalayan Institute. As the author of numerous books, including his autobiography
Touched by Fire: The Ongoing Journey of a Spiritual Seeker
, Pandit Tigunait offers practical guidance on applying yogic and tantric wisdom to modern life. For over 40 years he has touched innumerable lives around the world as a teacher, humanitarian, and visionary spiritual leader. You can view more of his teachings online at the Himalayan Institute Wisdom Library. Pandit Tigunait holds two doctorates: one in Sanskrit from the University of Allahabad in India, and another in Oriental Studies from the University of Pennsylvania. Family tradition gave Pandit Tigunait access to a vast range of spiritual wisdom preserved in both the written and oral traditions. Before meeting his master, Pandit Tigunait studied Sanskrit, the language of the ancient scriptures of India, as well as the languages of the Buddhist, Jaina, and Zorastrian traditions. In 1976, Swami Rama ordained Pandit Tigunait into the 5,000-year-old lineage of the Himalayan Masters.