Three Essential Breaths (Gentle/All Levels)
Shari Friedrichsen
January 10, 2019
Our breath is our access point to the subtle vibration of prana. Shari Friedrichsen demonstrates how, through simple breathing techniques, we can use the breath to identify and heal emotional scars, release old habits, and relax deeply. Move mindfully through crocodile pose, deep breathing with a breath pillow, and nadi shodhana (alternate nostril breathing), and learn how these cleansing and nourishing practices can lead to a fuller, richer life.
Format: Video with audio download
Length: 31 mins
Mat provided courtesy of JadeYoga.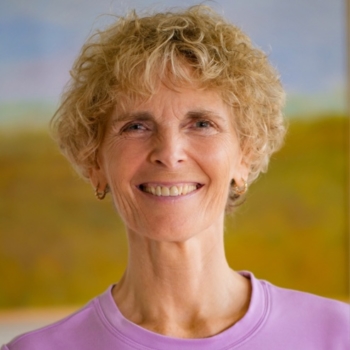 Shari Friedrichsen has been teaching and studying yoga for more than 45 years and is a key facilitator of the Himalayan Institute's Vishoka Meditation Course and the Vishoka Meditation Teacher Training program. She conducts classes, seminars and trainings, nationally and internationally, sharing the Wisdom of the Himalayan Tradition, of which she has been a student for over 22 years. Shari has studied asana, meditation, and philosophy with respected teachers Pandit Rajmani Tigunait, Rolf Sovik, Amma Karunamayi, and BKS Iyengar. Shari's unique style incorporates asanas, pranayama and meditation with breath awareness and subtle and gross anatomical guidance to draw the student into the inner experience of yoga and the self. Her approach uses yoga as a vital, powerful, and compassionate component in supporting the body, mind, heart and soul. Shari holds the following certifications-C-IAYT, E-RYT 500, and YACEP-and has presented over 100 videos, audio recordings, and courses on
YogaInternational.com
as well as being a frequent contributor to the
Wisdom Library
.