Yoga, Meditation, Wellness
Retreat Center
Our Retreat Center has been a gathering place for people seeking inspiration and aspiring to restore inner balance for more than fifty years.
Welcome
Yoga & Meditation Retreat Center
For more than fifty years, the Himalayan Institute's Retreat Center has been a gathering place for people seeking inspiration and aspiring to restore inner balance. As an Event Host and home to a vibrant community of yogis, it's a place for seekers wishing to study the ancient tradition of yoga and to deepen the connection between themselves and the world around them. Here, you can enjoy our peaceful campus, taking time out from habitual distractions and the bustle of everyday life.
Comfort & Convenience
The Retreat Center provides convenient guest amenities to make your stay even more comfortable and enjoyable. Treat yourself to a massage, meditate in our peaceful meditation shrine, or relax in one of the many attractive community spaces available on campus.
Whether it's shopping for a book, hiking on our trails, or grabbing a healthy snack between lectures, you will find everything you need on-site, including high-speed campus-wide Wi-Fi. Also, our fully equipped classrooms are available for personal practice when classes are not in session.
Amenities at a Glance:
Daily morning or evening yoga classes Friday–Sunday

Inquire about the weekday schedule with our reception team
Masks are required for all group practices

High-speed WiFi Internet access
Sri Vidya Shrine (Meditation Room)
Tea lounge with unlimited hot tea beverages
MOKA Café
Sacred Grove Boutique & Bookstore
24/7 Business Lounge
400-acre wooded campus with five main hiking trails
Accommodations
Accommodations include your room, delicious nourishing meals, and full access to our stunning grounds and retreat center amenities.
Clean & Simple Rooms
To support your retreat experience, we offer clean and simple rooms with a minimal, peaceful design. Here, your mind can be free from distractions as you enjoy the beautiful and peaceful surroundings that the Retreat Center has to offer.
Registration & Arrival
Weekend seminars generally begin on Friday evening at 7:30 p.m. and conclude Sunday at lunch, unless otherwise noted in the seminar description.
Check-in:
Due to our limited staff, we have limited hours for check-in. Our staff is available to welcome you from 2 pm to 6 pm (Wednesday—Friday) and 12 pm to 3 pm (Saturday—Tuesday), so please plan to arrive between these hours. If your plans may require an earlier or later arrival, please contact Guest Services to make arrangements. However, regretfully, we are unable to accommodate arrivals after 10 pm. If you are not able to arrive before 10 pm, you may need to make alternative lodging arrangements for the night. Then you can check in the next morning.
Check-out:
Check-out time is 12:30 pm on the day of departure. We can extend your check-out time to accommodate your scheduling needs (pending availability) for a courtesy charge.
What to Bring:
The Institute provides bed linens and towels. Please bring your toiletries, including soap, toothpaste, bathrobe, slippers, shower shoes, hairdryer, etc. We also recommend bringing a flashlight, yoga mat, and umbrella.
Dress:
Modest, casual, and comfortable clothing is recommended.
Payment
The prices shown include the cost of accommodations, weekend yoga classes*, meals, use of the tea lounge, cafe, wifi, trails, public spaces, and all the amenities that the retreat center offers. Full payment is required at registration and can be made with VISA, MasterCard, American Express, or Discover.
Cancellations/Refunds:
We offer a full refund to guests who cancel their reservation before 7 days prior to arrival. A processing fee of 50% from the accommodations total will be refunded if a reservation is cancelled between 7 days and 48hr to check-in. We are unable to offer a refund if a guest is a no show or cancels within 48 hours of their check in time.
Off-Campus Fee
All guests staying off-campus pay an amenities fee of $40 per day to cover the cost that we incur to accommodate your meals and, if applicable, your participation in the seminar. The amenities fee includes meals, weekend yoga classes*, and full use of public guest facilities.
Financial Assistance:
The Himalayan Institute endeavors to make spiritual and educational programs available to everyone. We offer some financial assistance to students who would otherwise be unable to attend a program. Scholarships are by application only; deadlines apply. Call (800) 822-4547 to request an application or visit this page to apply.
Covid-19 Protocols
The Himalayan Institute holds the wellbeing and safety of our guests, staff and community as our top most priority. Learn about our COVID-19 Safety Protocols
*Weekend yoga class schedule is subject to change. Please check your program schedule for details.
Getting Here
For detailed information on driving times and directions, airports, taxis from Honesdale to the Institute, and driving service from the Wilkes Barre/Scranton airport, please view our Getting Here page.
Campus & Grounds
Nestled in the rolling hills of the Poconos, the Himalayan Institute's picturesque 400-acre campus offers breathtaking views, scenic trails, and peaceful spaces for reflection and contemplation. We invite you to come enjoy the natural beauty here on campus.
At a Glance:
400-acre Campus
Stunning landscape and wildlife
Groomed Hiking Trails
Sunset Pond
Sound of Music Hill
Moka Origins Factory
Food & Dining
Our nutritionally balanced vegetarian meals are consciously prepared with the intention to nourish body, mind, and spirit. We invite you to come enjoy our delicious food.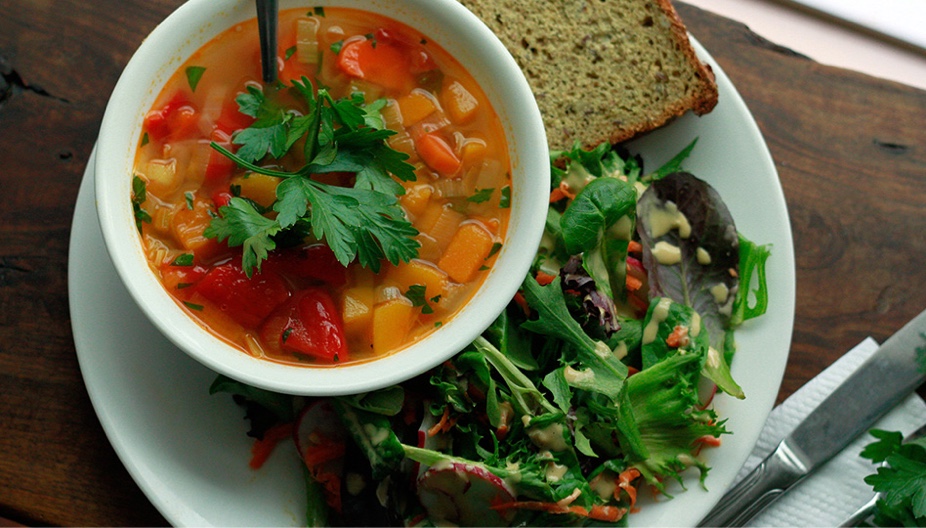 Breakfast
Breakfast generally consists of hot cereals (cooked grains), dairy and non-dairy options, homemade yogurt, and fresh fruit.
Lunch
Lunch, the main meal of the day, typically includes white and brown rice, delicious legumes (dahl), vegetables (subzi), homemade yogurt, and a fresh salad bar.
Dinner
Dinner is the lightest meal of the day and generally consists of soup, fresh salad, a delicious side dish, and fresh fruit.
*Non-dairy, gluten-free, and vegan options are available at most meals.
Event Hosting
We're Here to Support You
Over the last 50 years, we've become experts in hosting yoga, meditation, and wellness retreats. The HI Retreat Center has supported hundreds of clients in hosting private retreats, creating memorable experiences for all involved.
PLAN WITH EASE
Turn your ideas into action with our step-by-step support, marketing guide, and free planning tools.
SAVE TIME & ENERGY
Focus your energy on planning and teaching your next event supported by our experienced Event Logistics Team.
CUSTOMIZE YOUR PLAN
Enhance your package with add-ons like an evening campfire, a chai and cookie party, or an outdoor adventure.
FAQ
Have a Question?
Featured Presenters
Choose from a variety of transformative programs with invited teachers, thought leaders, and experts.