200-Hour Yoga Teacher Training
Dive into a life-changing course of study to establish or deepen your personal practice and become an effective yoga teacher.
IN-DEPTH STUDY & PRACTICE
AUTHENTIC HIMALAYAN TRADITION
WORLD LEADER IN YOGA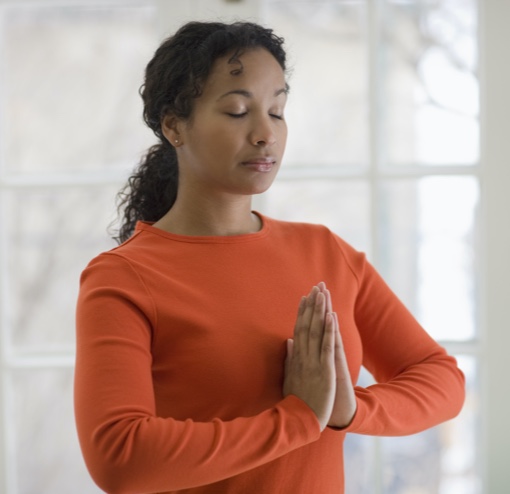 200-Hour Teacher Training
Uncover new depths in your practice and teaching.
Advance your personal healing and self-unfoldment
Learn, and ultimately embody, the foundational practices and teachings of yoga
Join a community of teachers and practitioners from all over the world
Unlock your capacity to bring positive change to your community and the world
Experience the Wisdom of a Living Tradition
The Himalayan Institute's 200-hour yoga teacher training program combines traditional yoga theory with modern science to cover the complete scope of yoga.

In-Depth Study & Practice
Experience, and gain insights into, the deeper dimensions of yoga.

Authentic Himalayan Tradition
Connect to an inexhaustible source of inspiration and nourishment.

World Leader in Yoga
Gain skills that will help you excel as a professional yoga teacher.
Overview
With over 50 years of teaching excellence, the Himalayan Institute has trained thousands of teachers in the authentic teachings of classical yoga and meditation.
When you enroll in the Himalayan Institute's 200-hour teacher training course, you don't just train to become a yoga teacher—you get the opportunity to participate in one of the most comprehensive teacher training programs in the world, and learn from dedicated, experienced teachers who represent the unbroken lineage of the Himalayan Tradition.
Program Structure
Our 200-hour yoga teacher training program is offered fully online. This highly experiential online format gives you the opportunity to participate in an intensive course of study and practice from the comfort of your own home while maintaining the deeply transformative benefit of the program. You will join a community of teachers and practitioners from all over the world connected by the yoga tradition.
Accreditation
The Himalayan Institute is fully accredited by Yoga Alliance as a Registered Yoga School.
The Himalayan Institute's Organizational Policies
The Himalayan Institute's Board of Directors has adopted these organizational policies in order to safeguard and positively support the experience of all the Institute's students, employees, residents and community members. For full details, visit our Organizational Policies Page.
Progam Curriculum
200 Content Hours
Techniques and Training: Asana, Pranayama and Meditation – 70
Teaching Methods – 50
Philosophy, Lifestyle, and Ethics – 40
Anatomy and Physiology – 25
Miscellaneous – 15
What You'll Learn
Asana, Breathing, Relaxation, and Meditation Practice
A strong personal practice will inform and develop your teaching. You will participate in full practices consisting of yoga asana, yogic breathing, systematic relaxation, seated breath awareness and meditation to help you to further develop and deepen your own personal practice, and to directly experience and apply the concepts you are learning to yourself.
Anatomy and Physiology
Learn the basics of anatomy and physiology concepts in order to have an understanding of how the human body works in relation to the practice of yoga. These sessions will include engaging experiential work.
Teaching Methods
Using our time-tested systematic approach to teaching, you will learn how to teach safely, clearly, and effectively by working with practice teaching in small groups. This unique approach will provide a supportive blueprint for instructing and sequencing so that you can complete the training program with the tools and confidence you will need to begin teaching immediately.
Diaphragmatic Breath Training and Pranayama
Develop your own personal relationship with breathing using an understanding of respiratory anatomy and physiology as a foundation for experiencing the immense transformative power of the breath. You will discover how specific breath training practices help to strengthen the diaphragm, balance the nervous system, and serve as an important foundation for pranayama practice. Experience how optimal yogic breathing supports overall health, well-being, and spiritual unfoldment.
Systematic Relaxation Techniques
Relaxation exercises form the bridge between hatha yoga and meditation practices. Discover how these practices help the mind and body assimilate the benefits of yoga postures while relieving stress, balancing the nervous system, and increasing subtle awareness.
Meditation Techniques
Discover the essentials of yogic meditation, including how to establish a comfortable and stable sitting posture and the role of breathing in meditation practice. You will also experience a simple, practical process of specific techniques designed to help the mind focus and become more inward.
Subtle Body Anatomy
Experience the power of prana—your own vital life force—in practice, and how to deepen your own awareness and experience of this potent healing force. Learn about the importance of subtle body anatomy, including chakras, and how to apply this knowledge to your own practice and teaching in a practical and grounded way.
Yoga Philosophy
A solid understanding of yoga philosophy will expand and deepen the experience of asana and infuse inspiration and meaning into your practice and teaching. Familiarize yourself with the core concepts of key foundational yogic texts: Patanjali's Yoga Sutra and The Bhagavad Gita. Learn how these ancient texts are now more relevant to modern life and teaching than ever.
Sanskrit
Enhance your credibility as a yoga teacher by skillfully incorporating Sanskrit into your teaching. Learn fundamental principles of the Sanskrit language, asana names, key yoga terms, as well as traditional prayers and chants to apply in your own practice.
Ayurveda: Diet and Lifestyle
A foundational understanding and practice of the science of ayurveda will compliment and empower your yoga practice and teaching. Discover the essential foundational concepts of ayurveda, including how to implement specific diet and lifestyle practices to support seasonal and life changes as well as to pacify imbalance.
Chat & Chai Sessions
In order to be able to connect with students informally, as well as to be available to answer questions our faculty will host several Chat and Chai sessions.
Small Group Assignments
Students will be divided into small groups to work together on practice teaching assignments. These groups will be scheduled independently by the group members according to their availability using the virtual meeting program of your choice. Students are expected to be flexible and participate in these small groups as an important part of the training program.
Program Dates
Click the button below to view all upcoming trainings.
Program Cost
$2,599 lifetime access
plus $108 non-refundable application fee
$200 Early Bird Discount for registrations paid in full by March 1, 2023
Includes course materials and handouts
Program Schedule
The 2023 200-hour Program is organized into two 100-hour segments as follows:
Segment 1: April 17–May 17, 2023
Segment 2: July 31–August 30, 2023
This unique format allows for space between segments for processing and integration of the program content into your yoga practice and daily life.
Please note that both segments are required in order to complete the certification program.
Testimonials
Honestly, I learned more and left the 200YTT more confident than I expected. Plus, this experience really helped me heal emotionally. I left with new tools to strengthen my daily life and I am looking forward to sharing my experiences and continue on this journey.
This was the most focussed, intense and pleasant training I have ever attended … even more than college or graduate school. I learned what I expected plus more than I could have imagined. I am inspired to learn more! I will be back!
The program was everything I expected and more. I did not expect the personal transformation that I experienced. I was also surprised at the ease of teaching a one-hour sequence before I left the HI. Piece by piece, this program inspired me, equipped me with tools, and provided excellent role models in our daily asana practice.
Apply for an Upcoming 200-Hour Yoga Teacher Training
Click the button below to view all upcoming trainings and apply today.
Scholarships Available:
Scholarships are available for this program through the Himalayan Institute Mission Scholarship Fund
Have A Question? Contact Us.
Email: [email protected]
Phone: (570) 616-0824
Himalayan Institute Certifications
952 Bethany Turnpike
Honesdale, PA 18431-4041, USA
Upcoming 200-Hour Yoga Teacher Trainings
The Best Way to Prepare for 200-Hour YTT