Food & Dining
Our nutritionally balanced vegetarian meals are consciously prepared with the intention to nourish body, mind, and spirit.
The H.I. Kitchen
The intention of the H.I. Kitchen is to provide the community and guests with meals that support a meditative lifestyle. It is where the spirit of yoga practice, selfless service, and deep nourishment begins, one taste at a time.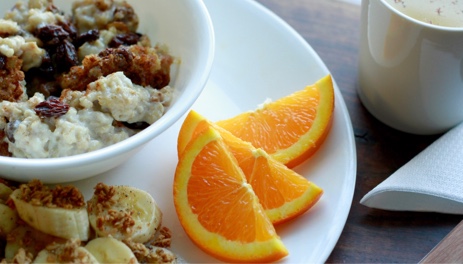 Breakfast
Breakfast generally consists of hot cereals (cooked grains), dairy and non-dairy options, homemade yogurt, and fresh fruit.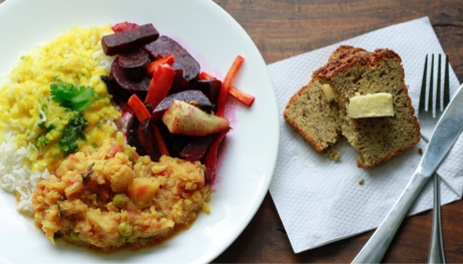 Lunch
Lunch, the main meal of the day, typically includes white and brown rice, delicious legumes (dahl), vegetables (subzi), homemade yogurt, and a fresh salad bar.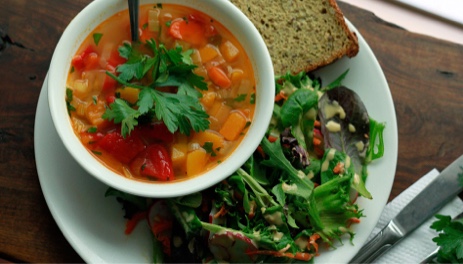 Dinner
Dinner is the lightest meal of the day and generally consists of soup, fresh salad, a delicious side dish, and fresh fruit.
Non-Dairy, Gluten Free, and Vegan
As much as possible, we try to provide special diet options, though we may not always meet all dietary requests. Non-dairy, gluten-free, and vegan options are available at most meals.
Meal Times
Breakfast 7:30am—8:30am
Lunch 12:30pm—1:30pm
Dinner 6:00pm—7:00pm
Ingredients and Labels
The menu includes grains, legumes, vegetables, fruits, dairy products and eggs. Gluten-free options are available. Meals are served buffet style and we are not able to accommodate all dietary needs.
Homemade Bread
Fresh, homemade bread (whole-wheat and gluten-free) is served at every meal.
Coffee, Chai, and Treats
Our in-house Himalayan Cafe offers freshly brewed Moka Origins coffee, the Institute's signature Chai Tea, and homemade cookies and treats.
Outside Food and Drink
Guests with dietary restrictions and severe allergies are welcome to bring necessary food items and beverages, but please be mindful that there is only a small guest kitchenette with a shared mini-fridge for storage. Guests will be required to dispose of any unused items before departing and encouraged to label their food items with names and stay dates. Please note that the residents and staff observe a vegetarian diet while on campus, and alcoholic beverages are not permitted.
Testimonials
The food was outstanding, we could hardly wait for each meal… We were so delighted by the nourishing food and its goodness. Thank you to all the hands that prepared the meals and kept the dining areas in simple/clean order. Thank you!
I had a wonderful time hiking, meditating, and enjoying delicious food with open minded people – a great experience. Thank you!!
The food was delicious and I wasn't one bit upset to see falafel on the menu two nights in a row.