Vishoka Meditation®
Vishoka Meditation is a complete system of meditation to reclaim your inner joy and train your mind to remain clear, focused, and joyful in all circumstances in life.
EXPERIENCE BOUNDLESS JOY
REACH YOUR FULL POTENTIAL
INSPIRE & TEACH OTHERS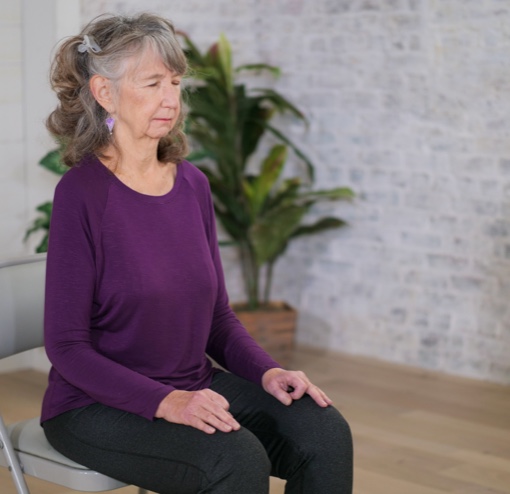 Vishoka Meditation
Reach Your Full Potential
Vishoka Meditation offers a precise set of meditative techniques designed to unite mind and breath and turn them inward, allowing us to nourish and rejuvenate ourselves on every level of our being.
Grounded in the authentic wisdom of a living tradition, the simple—yet profound—practice of Vishoka Meditation is the perfect complement to your existing yoga practice, as well as a powerful standalone meditation practice.
About Vishoka Meditation:
Overview
Our Vision
Imagine a life free from pain and sorrow, and infused with joy and tranquility. The ancient yogis called this state vishoka, and insisted that we all can reach it. Vishoka Meditation is a comprehensive system of meditation designed to help us reach this experience.
The heart of Vishoka Meditation is a technique that is spiritually-grounded, yet highly systematic and experiential. But Vishoka Meditation is more than technique—it is a living practice supported by a rich body of wisdom, refined over countless generations.
Vishoka Meditation Foundations
The Vishoka Meditation Course and 40-Day At-Home Practice are the foundation for your Vishoka Meditation journey.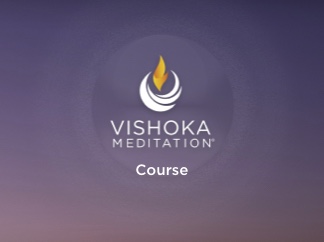 Unit 1
Vishoka Meditation Course
Experience the complete system of Vishoka Meditation in this instructor-led meditation course including in-depth lectures, practicums, and experiential training.
Details & Register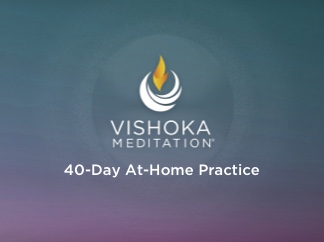 Unit 1
Vishoka 40-Day At-Home Practice
Learn valuable refinements to deepen your experience of Vishoka Meditation, helping you begin or intensify your at-home meditation practice.
Details & Register
Self-Mastery Series
The Vishoka Meditation Level 1 Self-Mastery Series is practice-driven, and designed specifically for students who have already completed the Vishoka Meditation Course, to help you take the next step on your journey of Vishoka Meditation.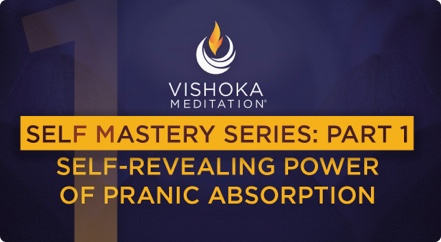 Unit 2
Part 1
The Self-Revelaing Power of Pranic Absorption
Explore pranic sensitivity, pranic awareness, and pranic collection through several classical pranayamas and asana/pranayama fusion practices in this in-depth practice and study of prana.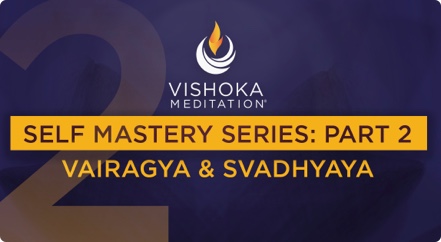 Unit 2
Part 2
Vairagya, and Svadhyaya: Unlocking the Power of Self-Reflection
Unlock the power of self-reflection and understand how Vishoka Meditation empowers purposeful engagement with the world and an enlightened worldview.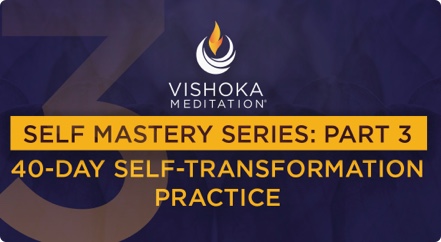 Unit 2
Part 3
40-day Self-Transformation Practice
Fully assimilate the practices and wisdom from Part 1 and Part 2 through systematic, time-bound practice, and prepare yourself for Vishoka Meditation Level 2.
Vishoka Meditation Teacher Training
The Vishoka Meditation Teacher Training certification program was created to share the practice of Vishoka Meditation far and wide. We believe meditation is a powerful force for positive change.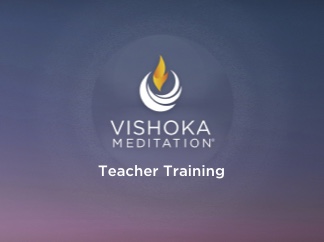 Master the key teaching techniques required to teach Vishoka Meditation and become a certified meditation teacher.
Learn More
Testimonials
All of the preparatory practices which led to Vishoka have been transformative for my personal practice. I have been meditating for over a decade and in the past few weeks, I have slowed down and opened to the beauty that lies in effortlessness. I loved the simplicity and it has given me new confidence to just teach!
— Leah K.
As someone who has been meditating for years with a different inner experience, feeling the fullness and richness of Vishoka Meditation makes daily practice a joy. Vishoka Meditation is by far the very best system of meditation I've ever experienced. I could feel the difference as soon as I began practicing.
— Rita S.
I realized about halfway through the course that this is the real deal. I believe Vishoka crosses all spiritual traditions throughout history and throughout the world. The master teachers of this course were terrific guides in the art of teaching meditation, but the true teacher was the practice of the Vishoka technique itself.
— Janese K.