Har Ki Doon: Trekking and Yoga in the Himalayas
with Ransom Hare
September 29–October 11, 2019
Register Now
Carved from glacial streams and cradled by Himalayan peaks lies the Har Ki Doon Valley. Blessed by the sages that have roamed these mountains for centuries, this valley boasts a variety of landscapes and experiences that few places in the Himalayas can offer.
Excursion Overview
On this excursion, we'll hike beside rushing rivers, through chestnut, cedar, and sycamore forests, across alpine meadows, and rest at the base of Himalayan peaks towering over 20,000 feet. Along the way we'll partake in time tested yoga practices including asana, pranayama, relaxation, and meditation to maximize our opportunity to receive the grace and nurturance this place has to offer.
Adventures Include:
Trekking through the Himalayas
Time-tested yoga practices including asana, pranayama, relaxation, and guided meditation
Luxurious campsites with freshly prepared and delicious meals
Interaction with local villagers—get a glimpse into authentic Himalayan culture
Swimming in the pristine mountain waters of the Yamuna River
Rest in the abundance of grace that this Himalayan valley naturally offers
and much more...
Come and See for Yourself...
"Thousands of years of the spiritually charged vibrations that these mountains emit differentiates them from all the other peaks in the world. Regardless what attitude or intention you bring to these mountains, you come back with an experience of yourself and a relationship with higher reality that you have never imagined before. What that experience is and how it's received is totally different from person to person and probably cannot be put into words even by those who experience it. Simply put, come and see for yourself."
—Pandit Rajmani Tigunait
Trek
Trek through the Himalayas and follow in the footsteps of the sages who have trod these paths for thousands of years. In these mountains, the modern world is left behind and a different reality exists. With a new breathtaking view around each corner that impels us forward our trek will lead us through some of the most beautiful scenes the Himalayas have to offer. The trekking days are designed to satisfy experienced hikers while allowing plenty of time to reach the next destination for those desiring a slower pace.
Practice Yoga
The yoga portion of this trip will combine breath aligned asana sequences to prepare us in the mornings for our treks, gentle asana and self-massage to help our muscles recover, relaxation practices to give our bodies complete rest, and guided meditations to facilitate a deeper experience and allow participants to rest in the abundance of grace that this Himalayan valley naturally offers.
Camp
Moonlight shines on the snow-capped peaks and stars that seem within reach blanket the sky above. The beauty at night in the Himalayas may even eclipse what can be seen during the day. The stillness that pervades the nights offers an extraordinary time to rest, reflect, and be held in the lap of the mountains.
And it's not just camping, it's glamping. Enjoy the luxury of arriving to fully set up campsites and being greeted with hot chai and a snack. meals are always freshly prepared and delicious. The only downside is you might never want to go camping by yourself again!
Experience Culture
Get a glimpse into authentic Himalayan culture in villages like Osla, the last stop on the road of civilization in the Har Ki Doon Valley. Osla is one of the last places on earth that remain undisturbed by modern technology. Villagers farm terraces on the mountainside, herd animals from region to region throughout the year, and keep warm beside fires. While efforts are being made to bring electricity and solar power to these villages, this trip is a wonderful opportunity to experience people living a way of life that may not exist much longer.
Relax and Assimilate
Enjoy an afternoon of swimming in the pristine mountain waters of the Yamuna River. The Yamuna is considered one of the most sacred rivers in India. While the Ganga is associated with knowledge, the Yamuna is associated with love and bhakti (devotion). In the eyes of the sages, the Yamuna is a fluid body of the divine that has merged the absolute essence of love and beauty. Swimming in this river and camping beside it will be a treat having completed our trek in Har Ki Doon the day before. Spend the final days of the excursion in Sursingdhar, a Himalayan refuge, and the perfect place to assimilate the past week's experience while strolling through pine forests and taking in sweeping mountain views.
Itinerary
September 29–October 11, 2019
Day 1, September 29

Dehradun (2,000 ft) – Mussoorie (6,580 ft)
The journey begins at the Dehradun Airport where you will be greeted by our team with a packed lunch before continuing on to the hotel in Mussoorie. Upon arrival, refreshments will be served followed by an opportunity to visit the local shops in town while you fight jet lag. Situated over 6,000 feet above sea level, it's the perfect place to acclimate for the evening.

Day 2, September 30

Mussoorie – Sankri (6,352 ft)
We will begin our second day with a gentle yoga class, followed by breakfast, and departure for Sankri. We'll have a picturesque eight hour journey with a stop for lunch along the way before reaching the Himalayan Eco Lodge in Sankri in time for afternoon chai. After getting settled and having a hot beverage and snack, we will enjoy a leisurely walk through this Himalayan village. After dinner, the night will end with a brief talk to prepare us for our trek, capped off by a guided meditation.

Day 3, October 1

Sankri (6,352 ft)
Begin to acclimate to the Himalayan air with a preparatory morning trek and packed lunch - a good opportunity for everyone to gauge how their feeling and make any adjustments they might need for the next week of trekking. Upon return we'll have chai and snacks and for those able to fight off jet lag, a pleasant dinner before heading to bed early for a good night's sleep in preparation for the next day's trek.

Day 4, October 2

Sankri – Taluka (7,900 ft) – School Campsite (8,300 ft)
We will begin our day with a short yoga practice to prepare our bodies for the first day of trekking. After breakfast, we will depart from Sankri for the village of Taluka, where the road ends and the trail begins. The trail starts with a descent to the Supin river, along which we ascend through a variety of beautiful forests before reaching our riverside campsite. In the afternoon there will be a guided self-massage to nurture ourselves physically, while the setting next to the river is an ideal place for meditation, relaxation, and reflection.

Day 5, October 3

School Koti – Halkhe Campsite (9,800 ft)
After a warm-up yoga class, we will enjoy breakfast and begin our uphill climb. The first hour or so will be a gradual uphill with one or two small steep climbs. After 2 km we will cross Seema bridge where the incline will increase. After a relatively flat section, there is one last push before we reach our campsite in the alpine meadow. This campsite has wonderful views of the Rohini, Bandarpunch, Black peaks and Ruinsara Valley. This evening offers time to rest, reflect, and enjoy being in the lap of the Himalayas.

Day 6, October 4

Halkhe - Har Ki Doon (11,768 feet)
We'll start the day with a guided movement and a meditation practice. After breakfast, the hike begins with a moderate ascent for the first hour or so. Afterwards, it's gentle ups and downs until we descend through the woods into a beautiful valley before making our final push upwards to Har Ki Doon. Getting closer to the 20,000+ft peaks provide the extra motivation to reach our destination. Once we arrive, we'll settle into our camp for the next two days beside a heavenly glacial stream.

Day 7, October 5

Har Ki Doon (11,768 feet)
This is a free day to bask in this Himalayan sanctuary in the manner that you will find most rewarding. There will be optional treks for those who are inspired to a nearby glacier or to a valley that rests 1,000 feet above our campsite. For those who do not wish to trek further, resting and exploring the area around our campsite will be equally fulfilling.

Day 8, October 6

Har Ki Doon – Osla (8,900 ft)
We'll start the day with a morning yoga class, before we begin our hike down the valley to the village of Osla. Osla is home to several hundred families and has existed for hundreds if not thousands of years. This afternoon we will settle in to our homestay and have the opportunity to explore the village. In the evening, we will have a traditional dinner and share the company of the local people. This will surely be a highlight for many on the trip.

Day 9, October 7

Osla – Taluka – Sankri (6,352 ft)
Today is the longest trekking day, as we hike downhill from Osla back to the trail's beginning in Taluka. Once we arrive at Taluka, we will travel by car back to our eco lodge in Sankri. Here you'll be able to enjoy a hot bath and collect any laundry you may have left before the start of the trek. We'll conclude the evening with a guided meditation.

Day 10, October 8

Sankri – Yamuna River Camp (2,300 ft)
In the morning we'll pack our bags and head for the bank of the famous Yamuna river, where we'll swim, enjoy, and camp for the night. It will be the perfect treat for our bodies after an intense week of trekking.

Day 11, October 9

Yamuna River Campsite – Sursingdhar (6,000 ft)
We'll wake up with a yoga class and breakfast by the river before driving to our final destination, the Himalayan Eco Lodge in Sursingdhar. The lodge here is an oasis nestled in a pine forest with sweeping views of Himalayan peaks. This afternoon is the perfect time to hand wash any clothes needed for the remainder of your travels. We'll take a leisurely village walk in the afternoon, and have a guided meditation in the evening before bed.

Day 12, October 10

Sursingdhar (6,000 ft)
With any luck, we'll be greeted in the morning by a majestic sunrise from behind the Himalayan peaks. Mid-morning, there will be an optional 2-3 hour hike through the local pine forests. Compared to our previous week, this will be a pleasant stroll. In the afternoon, there will be time to rest and get organized for our next day's departure. We'll have a short yoga class before afternoon chai, and enjoy a special farewell dinner this evening.

Day 13, October 11

Sursinghdhar – Dehradun (2,000 ft)
After an early breakfast, we'll depart by bus for the Dehradun airport reaching in time for mid to late afternoon flights.

*Dates, itinerary, and schedule are subject to change.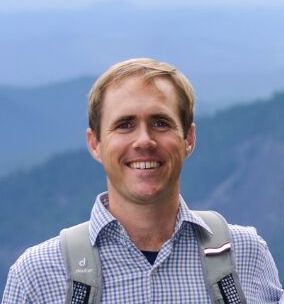 Ransom has been actively involved in the Himalayan Institute's Humanitarian and Excursion activities in India, Mexico and Cameroon for over seven years. Since 2013, he has been part of the Excursion team leading groups to Allahabad, Khajuraho, and various sacred sites in the Himalayas including Dharamshala, Manali, Gangotri and Tungnath, in India and to Cameroon, West Africa.
Ransom has been developing his yoga practice and studying with the Himalayan Institute for the past 11 years. His passion for pilgrimage began in 2009 when he accompanied Pandit Rajmani Tigunait and the Himalayan Institute on a pilgrimage to Khamakya, India. The experience he had was life-changing and inspired Ransom to make pilgrimage an integral part of his yoga sadhana. He is now excited to guide others to sacred sites and provide an immersive experience that will nourish their minds and hearts for years to come.
Registration
Rates:
Early Registration: ends January 15
Regular Registration: January 16–May 1
Late Registration: May 2–July 1
Shared
Early Registration: $2,700
Regular Registration: $2,900
Late Registration: $3,150
Single*
Early Registration: $3,200
Regular Registration: $3,400
Late Registration: $3,650
*See Tour Participant Agreement for details of accommodation options for single registrations
For more information or to make a balance payment:
Call: (800) 822-4547 x6
Email: [email protected]
Two Ways to Register:
Online
Register online by completing the registration form below and make your payment (deposit or full) in order to save your space.
Register Online
By Mail
Download the Tour Participant Agreement ("TPA"). Print, read, complete, sign. Mail your signed TPA with deposit or full payment.
Download TPA
If mailing an application, send to:
Himalayan Institute Spiritual Excursions
Attn: Alat Shanti Tigunait
952 Bethany Turnpike
Honesdale, PA 18431 USA
Rishikesh and Haridwar
Conclude your journey through the Himalayas with a 3-night spiritual and cultural immersion in Rishikesh and Haridwar. We will explore and experience shrines of the Himalayan Tradition that sages have visited for centuries, and taste the rich culture of India through events such as the famous Ganga Aarti in Haridwar.
Learn More