2022 Signature Excursion - Valley of Flowers, Badrinath, Kuari Pass
Join us for this extraordinary pilgrimage to the heart of the Himalayas, and walk in the footsteps of the sages.
September 17—30, 2022
Register Now
This pilgrimage is a purpose-driven journey to discover the hidden essence of these living shrines of the Himalayan Tradition.
Our focus will be on experiencing the vibrant sacred space of the Himalayas as a catalyst for our practice. We'll re-trace the footsteps of legendary sages of the Tradition, including Gudari Baba, Swami Rama, and his master, Bengali Baba, and bask in their grace as we are embraced by the transformational power of the Himalayas. Anchored by significant time in spiritually-awakened locations of profound natural beauty, our journey will also be enriched by practice, satsang and community with like-minded fellow seekers in the Tradition.
Excursion Overview
Key Highlights:
Visit ancient shrines that have been treasured by yogis for thousands of years
Immerse yourself in the natural beauty of the Himalayas while enjoying the comforts of luxury camping
Deepen your practice with group meditation, mantra recitation, and guided practice
Satsangs to explore the spiritual legacy of these shrines and the sages associated with them
Trek through a diverse range of extraordinary Himalayan terrains including temperate forests, alpine meadows, and mountain paths
Enjoy the presence of legendary sacred mountains including Nanda Devi, Neelkanth, and more.
Experience the unique culture of Himalayan villages
Key Destinations:
Valley of Flowers with an optional visit to Hemkund and helicopter ride from the trailhead to the Valley of Flowers basecamp
Badrinath town, main shrine, and other points of interest including Panukeshwar, Charan Paduka, Vyasa Gufa, Ganesha Gufa, and Tripura Sundari Shrine
Vasudhara Falls for overnight camping and optional trek to the source of the Alaknanda Ganges
Auli and the Gurson high alpine meadows via cable car ride
Joshimath main temple and surrounding shrines
Kuari Pass with a visit to the Nanda Devi Shrine, Lata Village, and camping in Gulling
Kuari Pass
This is one of the most accessible and scenic hikes in the entire Himalayas. Enjoy the day walking through beautiful forests and sweeping alpine meadows, and soak in some of the grandest views these mountains have to offer when you bask in the presence of peaks like : Nanda Devi, Dronagiri, Neelkanth, Chaukamba, Hati Ghoda, and more!
Badrinath
Nestled deep in the Himalayas, along the Alaknanda Ganges and near the base of Neelkanth mountain, Badrinath is one of the most sacred shrines in India. Revered for thousands of years, Badrinath is associated with the primordial sage Narayana and many other adepts of the Himalayan Tradition.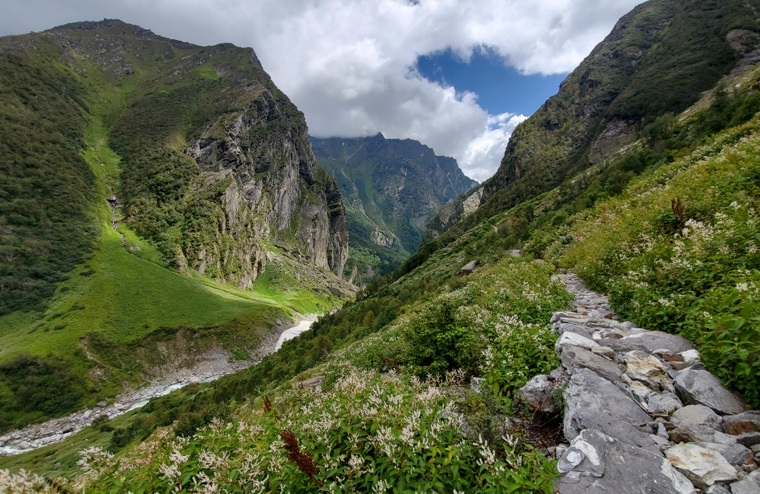 Valley of Flowers
The Valley of Flowers has been a favorite of adepts of the Himalayan Tradition for countless generations. Designated a UNESCO World Heritage site, this high-altitude valley is world renown for its extraordinary natural beauty, bio-diversity, and spiritual vibrancy. Here, we'll walk in the footsteps of Swami Rama and Gudari baba as described in Living with Himalayan Masters and At The Eleventh Hour.
Vasudhara Falls
Hike through the stunning valley above Mana village to one of the most picturesque waterfalls in the Himalayas. From here, you'll have an optional hike to Satopanth Glacier, the source of the Alaknanda Ganges.
Optional Helicopter Ride
Bypass a grueling 5-7 hour hike between Govind Ghat and Gangaria on the way to the Valley of Flowers, and capitalize on the rare opportunity to helicopter through the Himalayas. While this isn't required, it's highly recommended!
Camping
For three nights, between beautiful forests and by a rushing river, we'll camp under a blanket of Himalayan stars.
Caves of Masters
Visit and meditate in caves masters such as Guru Goraknath, Vyasa, Adi Shankaracharya, and Ganesh.
Shrines
Pandukeshwar (Birth place of the Pandavas), Tripura Sundari, Charan Paduka (Footprint of Vishnu), Nanda Devi, and many more!
Joshimath
The winter seat of the Badrinath shrine and where Adi Shankaracharya did his sadhana.
Itinerary
September 17—30, 2022
Day 1

Dehradun Airport – Sri Nagar (2,000 ft) (5-6 hr drive)
Arrive at Dehradun airport on morning flights. Transfer to Sri Nagar hotel by coach, check into hotel. Enjoy chai, orientation, time to rest, then dinner. Overnight in hotel.

Day 2

Sri Nagar – Auli (8,200 ft) (7-8 hr drive)
After an early breakfast depart from Sri Nagar for Auli. Arrive at guest houses, settle in with chai, and dinner. Overnight at guest houses.

Day 3

Auli / Joshimath (8,200 ft)
After breakfast, drive to Joshimath and take a cable car to Auli Gurson Meadows (10,000 ft). Enjoy short walks and a packed lunch. Afternoon, explore shrines in Joshimath. Return to Auli guest houses for chai and dinner. Overnight in guest houses.

Day 4

Auli – Lata Village (7,600ft)– Gulling Campsite (9186 ft)
After an early breakfast, leave for Lata village (1.5-2 hour drive) and hike to Nanda Devi Shrine (1 hour hike each way from Lata Village – Nanda Devi Shrine). Return to Lata village and drive to the trail head for the Gulling campsite (1 hour drive). Hike 1.5 – 2 hours to reach our forested campsite. Overnight camping.

Day 5

Hike to Kuari Pass (11,975)
After an early breakfast begin the 9km hike (each way) to the Kuari passs, an iconic trail hiked for hundreds of years. Continue getting acclimated as you enjoy great views of the Himalayas as you hike through forests and meadows. Return to camp for chai and dinner. Overnight camping.

Day 6

Gulling Campsite – Badrinath (10,827ft) (4.5-5.5 hr drive)
Depart camp after breakfast. After a leisurely walk, reach the buses and drive to Badrinath. Check into hotel followed by chai, satasang, and dinner. Overnight at hotel.

Day 7

Badrinath (10,827ft)
After a relaxed breakfast, hike to Charan Paduka (2.5-3 hours round trip). Return to hotel for lunch. Visit shrines and explore the town of Badrinath in the afternoon. Overnight in hotel.

Day 8

Badrinath – Vasudhara Falls Campsite (12,000 ft)
After breakfast, drive to Mana village and start a moderate hike (2.5-4 hours) to Vasudhara Falls and our campsite. In the afternoon, enjoy the campsite or explore the area and hike 1.5km further to the source of the Alaknana river. Overnight at campsite.

Day 9

Campsite – Mana Village – Badrinath
After a leisurely morning and early hot lunch begin the 2-3 hour hike back to Mana Village. Visit Vyas Gufa and Ganesh Gufa on the way back to our hotel in Badrinath. Overnight at hotel.

Day 10

Badrinath – Govind Ghat (1 – 1.5 hr drive) – Gangaria (10, 000 ft)
Early breakfast and departure for Govind Ghat, our starting point to reach Gangaria. From Govind Ghat you can hike (12 km), take mule, or helicopter (3 minutes) to reach Gangaria. *Optional visit to Hemkund is possible on this day but requires you to take the earlier helicopter to Gangaria from Govind Ghat. A mule from Gangaria to Hemkund is recommended as the climb is a steep 6km with 3000 ft elevation gain. Afternoon in Gangaria to explore and prepare for the hike into Valley of Flowers the following day. Overnight at guest house.

Day 11

Gangaria - Valley of Flowers – Gangaria
After an early breakfast, get your packed lunch and begin the 6km hike to Valley of Flowers (2-2.5 hour walk). Once there, spend the rest of the morning and early afternoon exploring the Valley of Flowers before beginning the return hike to Gangaria. Overnight at guest house.

Day 12

Gangaria – Govind Ghat – Auli
On this morning you will have the option to hike from Gangaria to Govind Ghat after an early breakfast or have a leisurely morning and take a helicopter ride back to Govind Ghat. Once the entire group has returned to Govind Ghat we will travel by bus back to Auli. Overnight in guest houses.

Day 13

Auli – Sri Nagar
Depart Auli after an early breakfast for Sri Nagar. Packed lunch along the way. Reach Jayalgarh by mid-late afternoon. Relaxed evening and farewell dinner. Overnight at hotel.

Day 14

Sri Nagar – Dehradun Airport
Relaxed morning before departure by bus for late afternoon flights from the Dehradun Airport.

*Subject to change
Excursion Leaders & Faculty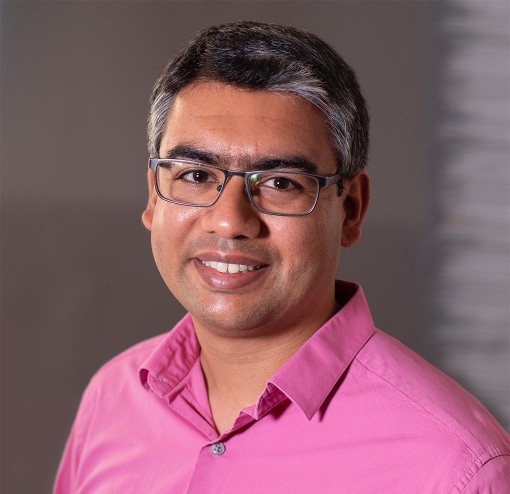 Ishan Tigunait
Growing up at the Himalayan Institute, Ishan Tigunait received his first spiritual lessons from Swami Rama of the Himalayas, and has continued his spiritual education for the past 30 years under the guidance of his father, Pandit Rajmani Tigunait. Pilgrimage has been a major part of his spiritual journey for over 20 years, leading him to experience sacred spaces throughout India, Tibet, Nepal and Southeast Asia. The desire to share these experiences inspires Ishan to lead annual pilgrimages to India and Himalayas.
Ishan's passion is sharing modern reflections on the ancient wisdom of the yogic and tantric traditions. As a Himalayan Institute faculty member, he teaches around the world and leads the Institute's Yogi Living program.
Ishan serves as Executive Director of the Himalayan Institute and has been a driving force for the Institute's humanitarian projects in Africa and India over the past 15 years. He also serves as Managing Director of Himalayan Institute India, and spearheaded the establishment of the Institute's newest campus in Khajuraho, India. An avid social entrepreneur, Ishan also is co-founder of Moka Origins, a social-impact driven craft chocolate maker and specialty coffee roaster.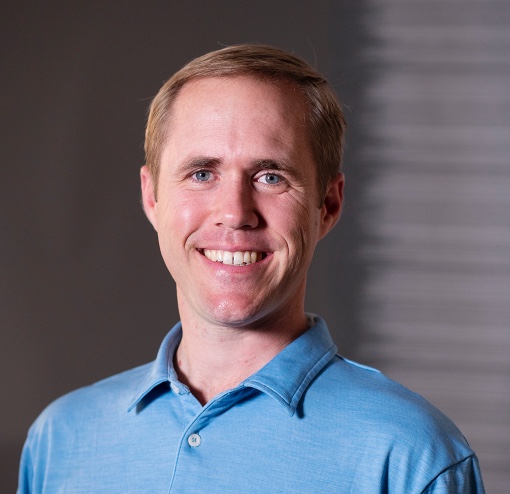 Ransom Hare
Ransom has been actively involved in the Himalayan Institute's Humanitarian and Excursion activities in India, Mexico and Cameroon for over seven years. Since 2012, he has been part of the Excursion team leading groups to Allahabad, Khajuraho, and various sacred sites in the Himalayas including Dharamshala, Manali, Har Ki Doon, Gangotri and Tungnath, in India and to Cameroon, West Africa. He has a passion for exploring sacred spaces and learning how they be a catalyst for deep transformation.
Ransom has been developing his yoga practice and studying with the Himalayan Institute since 2008. He completed his 500 hour teacher training certification in 2018 and currently serves as a faculty member contributing to the Himalayan Institute.
Registration
Registration is Now Closed
We are still traveling! Please review more of our upcoming excursions.